Where did all the doctors go?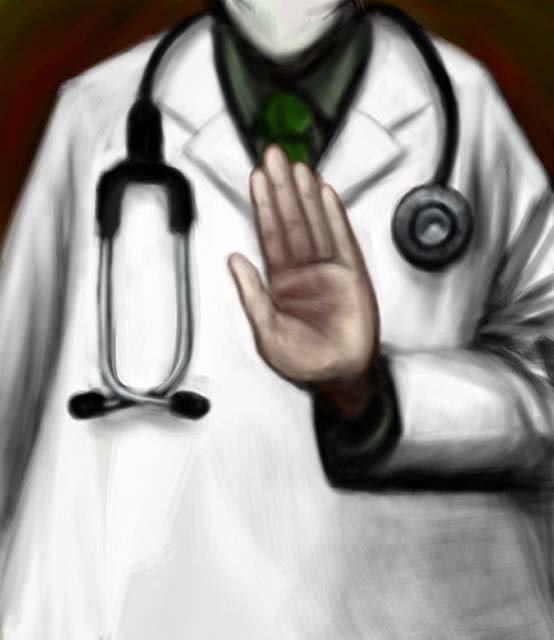 A recent report by Merritt Hawkins, one of the country's largest physician recruiting firms, shows that by 2014, 75% of all physicians will be working for hospitals or large groups. How could this have happened?

"

Squeezed by high costs and shrinking insurance reimbursements, independent doctors are closing up shop or going to work at hospitals or bigger group practices where they aren't directly responsible for overhead costs

."
For those who regularly read InsureBlog, I have reported on how the lack of increased insurance reimbursements is decimating the private medical doctor. Seems like not much has changed:

"

Our projection reaffirms the trend that fewer and fewer doctors are going into solo practice or staying in solo practice," Travis Singleton, senior vice president with Merritt Hawkins, told CNN. "It shows that no one wants to hire a solo doctor; no one wants to be a solo doctor. This is a dying breed of physician that is quickly disappearing from the American landscape

"
Having worked with representatives of Merritt Hawkins, I can attest to how difficult it is for a small practice to recruit a new physician. The trend for medical school graduates is to seek out a six figure job, working only 40 hours a week, in a great location, with great schools and amenities. I then asked the representative if they want a pony with that. Gone are the days when a doctor graduates from medical school, hangs out their shingle and then works to built up a clientele of patients. Of course during this process, the doctor "eats what he kills", meaning his income comes directly from the number of patients that he sees. Hospitals and large groups have the ability to pay a physician a salary at graduation that is often only achieved after a decade of working:


"

As hospitals staff up, they are plucking off physicians who once ran independent practices but couldn't afford to stay in business ... How a "solo" doctor practices today is dramatically different from 20 or 30 years ago. Back then, the solo doctor was truly independent ... They had the financial means to pick a place, set up their office, hire their staff and get going. But the economics of delivering health care have changed considerably over the years, making it much more expensive for doctors to run an independent office

."
The result is that they often don't, choosing instead to seel their services to a hospital system which can provide the logistical and billing support at a much lower cost.

For anyone working in healthcare this is not new, but for those individuals who are experiencing the loss of their doctor or for those who are being forced into a large medical group where there is no choice of which physician to see, this is shocking:

"

Hiring of physicians by hospitals definitely accelerated since 2008 as the economy weakened, reimbursements to doctors were shrinking and health reform passed

"
As I have discussed previously, this situation is a direct result of the lack of increases in the Medicare Fee Schedule since early last decade. Beginning in early 2000, it was determined that the Medicare Fee Schedule needed to be kept in check by a formula called the SGR, or Sustained Growth Ratio. The result of the SGR is that for every year since early 2000's the government has determined that the fee schedule needs to be cut. The percentage cut for this year has not been announced, but last year's cut was around 30%, which was deferred once again. Since all private insurance fee schedules are based on Medicare's fee schedule, the lack of an increase on Medicare's part has resulted in an across the board lack of increase on all fee schedules.

I was recently doing some consulting work with a restaurateur who lamented the small profit ratio in food and wondered if he should have gone to medical school. I explained to him the state of medicine today and then to put it in his terms, I asked him what would happen to his business if he had to charge for his food what he charged in the year 2000 but still have the overhead of year 2012. He hugged me, realizing that his lot wasn't so bad. The reality is that private doctors are going bankrupt and going out of business and new graduates are not enthusiastic about taking on the costs and the workload of a private practice without the financial rewards. So this is how the long established practice of private doctor's end, not with a bang but with a merger.


This information is solely for informational and educational purposes only. The publication of this information does not constitute the practice of medicine, family planning, child psychology, marriage counseling and this information does not replace the advice of your physician or other health care or mental health care provider. Neither the owners or employees of NaturalFamilyOnline.com or the author(s) of site content take responsibility for any possible consequences from any treatment, procedure, exercise, dietary modification, application of medication or any other action involving the care of yourself or any family members which results from reading this site. It is always best to speak with your primary health care provider before engaging in any form of self treatment. Additional information contained in our Legal Statement
Poll
What does your weekly dinner look like?
The whole family dines together at home
63%
The whole family dines together at a restaurant
1%
Parents and children eat separately
4%
Whoever is around eats together
21%
Every family member for themselves!
11%
Total votes: 5755